Header

Get involved

Twitter
LinkedIn
---
Simple Rules Jewelry
The Spiral has found its way into the art of almost all cultures, from Celtic art, native American petroglyphs, Nazca earthworks, Arabic architecture, Japanese rock gardens, Hindu spiritual texts, Australian aboriginal paintings, and African art.  Surprisingly, no religious or political group has claimed exclusive rights to the spiral. It remains non-sectarian, or even pan-sectarian: belonging to everyone and excluding no one.
Throughout time, the spiral has been used to represent:
Evolution, holistic growth, and the cycle of learning
Awareness of the one within the context of the whole
Revolutions of time, stars, the planets, and the path of natural progress
Connectivity and union with the world
This symbol represents something very special to us that is deeply embedded in our work. You can also make it your own.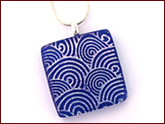 Blue Glass Spirals
This beautiful fused glass pendant is crafted from dichroic glass. The transparent background highlights spiral swirls in light silver spirals as the light hits. Each handcrafted piece is 1.125" long x 1.125" wide at the widest point, and signed and numbered on the back. Individually made, each is unique and available in lapis blue, shown, crimson, or midnight black, and come with an 18" sterling silver chain.
Item SSDG09: $44.90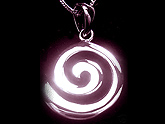 Celtic Spiral
This solid sterling Celtic pendant (.925 silver), is individually handcrafted in Ireland by a silversmith. The spiral charm measures 7/8" top to bottom and 5/8" in width. The polished finish reflects the light with a magical glow. It comes on an 18" sterling silver chain.
Item ICSS08: $38.90
Jasper Beads
This piece is made from beautiful Red Creek jasper stone beads, each with unique colors and patterns, then wrapped with high gauge black craft wire. The pendant measures 2 inches across from edge to edge and 3 inches from bail to bottom edge, with a black leather cord. Individually handmade, no two pieces are alike. Palette colors include desert earth tones, turquoise, azure, red and gold.
Item CCJB06: $55.90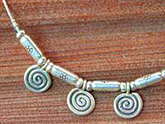 Tribal Spiral Choker
This artisan translates this ancient design into a contemporary silver choker. Three spiral pendants, 0.6" long by 0.6" wide, are handcrafted and hang from a 14.6" sterling chain. The necklace is .950 silver and features a rustic, rugged finish. Every piece is individually made in Northern Thailand.
Item NOSC12: $107.90